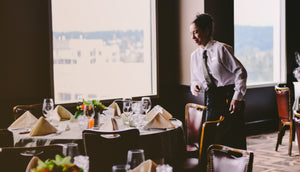 Join Our Team
At Daniel's Broiler, we are proud to have a team of committed people who care about their fellow team members and guests, who are passionate about quality of product, service, and training, and who believe in helping every team member be successful through honesty, courtesy, and respect.
For more information or to apply, please email your resume to jobs@schwartzbros.com or click here.
Mission Statement
Daniel's Broiler is a locally owned and operated, innovative business with strong community involvement, offering our guests consistent high-quality products and service at a fair value.
We are committed to controlled growth within the Pacific Northwest and believe that we can achieve our financial goals through managing our restaurants, catering, and production facilities with carefully selected, qualified, and trained personnel. Continued development of management skills and systems are critical to our long-term success.
We believe that it is important to treat each person, whether guest, Team Member, or vendor, with honesty, courtesy, and respect.
Training & Promotions
Daniel's Broiler is committed to providing all of the knowledge and tools necessary for team members to be able to be successful. One of those tools is training. Our team members go through extensive, one-on-one training to prepare them on how to give the best service and quality product possible. Workbooks are used as guides for the training and regular evaluations are provided allowing new team members to see their progress during the training process.
Many of our team members aspire to do different things within our organization. For those who have the ambition to do more we help to prepare them by developing an individual succession plan. By the end of this training, the team member will be ready to step into the role once the position is available. Whether your goal is to make a long term career here at Daniel's Broiler or make this your first step in your career, we are happy to help you get there.
Benefits
Discount while dining at our restaurants when not on shift
Medical, Dental, Vision, and Life Insurance Plan
401(K) Pre-Tax Savings Plan and Trust
Employee Assistance Program (EAP)
In addition to the above, managers receive the following benefits:
Long-Term Disability Insurance